Registration: N6419
Manufacturer: George H. Wiederkehr
Country of Orgin: United States
Glide Ratio: 28:1
Year Built: 1968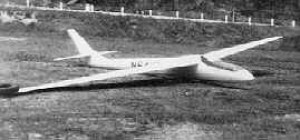 The Wiederkehr GHW-1 Cu-Climber is an American, high-wing, single-seat glider that was designed by George H. Wiederkehr and first flown in 1968.The Cu-Climber is an original design and is of mixed construction, with the fuselage of fibreglass with foam bullkheads, forming a semi-monocoque structure. The wings are a fiberglass and balsa sandwich, with fibreglass skin, except aft of the spar on the under-surface where aircraft fabric covering is employed. The wing also features a large 12 inch (30 cm) X 6 inch (15 cm) box spar that is made from spruce, plywood and fiberglass, which is stressed to +9.6/-6.3 g. The wing employs a Pfenninger 14% airfoil. The control surfaces include an all flying tail fitted with an anti-servo tab and full-span ailerons of very short chord that act as flaps when drooped for glidepath control. The landing gear is a fixed monowheel that is faired to reduce drag.The aircraft's designation of GHW-1 indicates the designer's initials. Unusually the aircraft is registered with the Federal Aviation Administration simply as Amateur Built 68 glider. Only one example was ever constructed.
Maximum glide ratio: 28 to 32:1 (estimated) at 55-60 mph (89-97 km/h) Rate of sink: 126 ft/min (0.64 m/s) to 150 fpm (0.76 m/s) (estimated) at 44-50 mph (71-80 km/h) Wing loading: 5.5 lb/sq ft (27 kg/m²)