Registration: N17EW
Manufacturer: Rolladen-Schneider
Country of Orgin: Germany
Glide Ratio: 36:1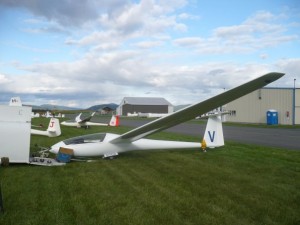 The LS-1 Standard Class design was the first aircraft type arising from the partnership between Wolf Lemke and Walter Schneider, who had already worked together as students on the ground breaking Akaflieg Darmstadt D-36. Here, and in subsequent Lemke-Schneider (LS) designs, Wolf Lemke concentrated on the aerodynamics while Walter Schneider contributed mostly to the structural and production issues.
The LS1 made its debut at the 1968 German National Championships, taking first and second place with the designers themselves at the controls. The success of this design increased in the subsequent years until, in 1975, it was the most flown glider in the German Nationals. The LS1 took first place in the 1970 World Championships at Marfa, Texas.
The manufacture of the LS1 was discontinued after the IGC introduced the new unrestricted 15 meter Class in the spring 1977, as the manufacturer needed all its resources to increase production of the LS3. A total of 464 LS1 were built. It was succeeded by the LS2 and LS4. LS1-f - introduced the one-piece canopy, conventional tailplane, redesigned rudder and structural changes that allowed more water ballast and higher flight mass. It also has a reduced wing incidence relative to the fuselage, resulting in noticeably better high speed performance than the earlier LS1 variants. (240 built)
Maximum speed: 250 km/h (160 mph) Maximum glide ratio: 37 Rate of sink: 0.62 m/s (122 ft/min)