Registration: N133SS / ADK
Manufacturer: Grob Aircraft / Burkhart Grob
Country of Orgin: Germany
Glide Ratio: 38:1
Year Built: 1977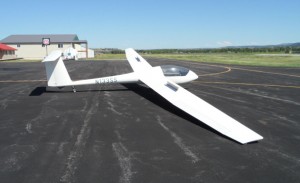 The Astir CS [Club Standard] is of composite (fiberglass/resin) construction, has a large wing area, a T-tail and water ballast tanks in its wings. The large wing area gives good low-speed handling characteristics but its high-speed performance is inferior to other Standard-class gliders. In early versions some of the fuselage frame was wood, but this was replaced with a light alloy casting which sometimes cracks after heavy landings. The tail dolly is unusual by being plugged into a vertical hole. A slightly improved standard-class version, the CS 77, was introduced in 1977. It has a different rudder profile and a slimmer fuselage similar to that of the Speed Astir. The Standard II and Standard III versions followed in the early 1980s, reverting to the higher-profile fuselage and with a reduced empty weight and an increased payload. The Astir CS Jeans was similar to the CS 77, but had a fixed mainwheel and a tailskid. Its cockpit was fitted in blue denim. Later versions were the Club II and the Club III which also had fixed gear, but the Club III had a tailwheel. The numbers built of each type were: 536 CS, 244 CS77, 248 CS Jeans, 61 Club/Standard Astir II and 152 Club/Standard Astir III. A flapped version called the G104 Speed Astir was also produced. The latest in the Astir line is the G102 Standard Astir III, designed by Burkhart Grob and built by Grob Aircraft as a development of the original G-102.
One Astir (now residing at the Steven F. Udvar-Hazy Center), flown by Robert Harris, broke the world absolute altitude record at 49,009 ft (14,938 m) on 17 February 1986. This record lasted until 2006.
Maximum speed: 170 km/h (106 mph; 92 kn) manouevring and airtow Stall speed: 59 km/h (37 mph; 32 kn) without airbrakes Never exceed speed: 250 km/h (155 mph; 135 kn) Maximum glide ratio: Best 38, at 105 km/h (64 mph, 56 kn) and 0.77 m/s (152 ft/m) Rate of sink: 0.62 m/s (122 ft/min) minimum, at 76 km/hr (47 mph, 42 kn) and glide ratio 34