Registration: N17GH
Manufacturer: Glaser-Dirks
Country of Orgin: Germany
Glide Ratio: 39:1
Year Built: 1975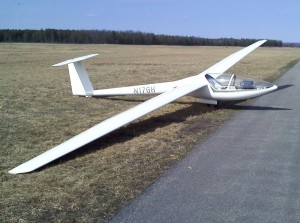 The first model had an all-flying tailplane, with anti-balance tabs along the entire trailing edges, and a two-piece canopy (movable and fixed parts), built of GFRP (glass-reinforced fibreglass plastic)/foam sandwich materials and resin impregnated rovings for high strength parts. Successive developments included the DG-100G, DG-101 and DG-101G, most models are available with water ballast bags in the wings. The DG-101 and DG-101G had improvements such as a single-piece front-hinged canopy, improved crash resistant cockpit and a conventional tailplane (with fixed horizontal stabilizer and moveable elevator). There was also a club version of this sailplane with fixed landing gear. All models featured top-surface-only air brakes. Some later models were also manufactured by the Elan company in Slovenia and can be identified by the word "ELAN" on the fuselage and rudder. The serial number of these gliders is prefixed with "E".
Maximum speed: 260 km/h (161 mph) Maximum glide ratio: 39:1 Rate of sink: 0.59 m/s (116 ft/min)