Registration: N54PM
Manufacturer: Glaser Dirks
Country of Orgin: Germany
Glide Ratio: 38:1
Year Built: 1982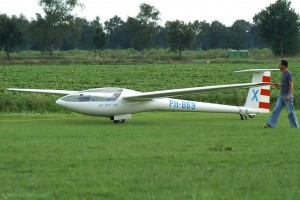 The DG-100 of 1974 is the first sailplane manufactured by Glaser-Dirks, developed from the Akaflieg Darmstadt D-38, the Standard class sailplane was designed by Wilhelm Dirks. The first model had an all-flying tailplane, with anti-balance tabs along the entire trailing edges, and a two-piece canopy (movable and fixed parts), built of GFRP (glass-reinforced fibreglass plastic)/foam sandwich materials and resin impregnated rovings for high strength parts. Successive developments included the DG-100G, DG-101 and DG-101G. Most models are available with water ballast bags in the wings. The DG-101 and DG-101G had improvements such as a single-piece front-hinged canopy, improved crash resistant cockpit and a conventional tailplane (with fixed horizontal stabilizer and articulated elevator). There was also a club version of this sailplane with fixed landing gear. All models featured top-surface-only air brakes.
Maximum speed: 260 km/h (161 mph) Maximum glide ratio: 39:1 Rate of sink: 0.59 m/s (116 ft/min)