Registration: N118YV
Manufacturer: Schempp-Hirth
Country of Orgin: Germany
Glide Ratio: 47.5:1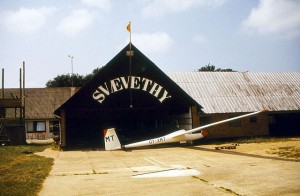 Loosely based on the original Nimbus HS-3 prototype, the production version that eventually surfaced as the Nimbus-2 was a very different glider with many improvements over the problematic prototype. The wing was shortened to 20.3 metres and was built in four sections to make it easier to rig and transport. It received Schempp-Hirth air brakes fitted in the upper surfaces and a tail braking-parachute, plus camber-changing flaps. It had an all-flying T-tail similar to the Standard Cirrus as well as the general layout of its fuselage.The Nimbus-2 was successful in competitions, twice winning the Open Class in World Gliding Championships: Göran Ax (Sweden) in 1972 and George Moffat (USA) in 1974. It was also popular with record-seekers. Bruce Lindsey Drake, David Napier Speight and Sholto Hamilton "Dick" Georgeson jointly set a World Goal and Free Distance record of 1,254 km in New Zealand in 1978, Doris Grove a feminine Out and Return record of 1,127 km in 1981, Yvonne Loader a feminine Height Gain record of 10212 m in 1988, and Joan Shaw a feminine Distance record of 951.43 km in 1990, all flying Nimbus-2. At its time several national and world records were held by Nimbus-2M's in the FAI motorglider category. In 1979 Klaus Holighaus, the glider's designer, completed the first 1,000 km triangle in Germany flying a Nimbus-2.
The Nimbus-2 was succeeded by the Schempp-Hirth Nimbus-3.
Maximum speed: 270 km/h (170 mph) Maximum glide ratio: ca. 47.5 Rate of sink: 0.49 m/s (96 ft/min)