Registration: N78AW
Manufacturer: Rolladen-Schneider
Country of Orgin: Germany
Glide Ratio: 43:1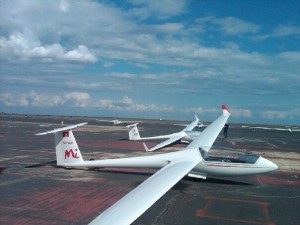 The Rolladen-Schneider LS7 is a high-performance Standard Class single-seat sailplane produced by Rolladen-Schneider Flugzeugbau GmbH from 1988 to 1993.
The LS7 was developed as the successor to the LS4, one of the most successful gliders ever produced.
In a departure from the design philosophy of the LS4, Rolladen-Schneider set out to design the LS7 as an uncompromised competition machine, seeking the highest performance possible with the technology of the time.
Designer Wolf Lemke specified a highly laminar wing profile and developed a high aspect ratio wing. Carbon fibre was extensively used in the construction, along with aramid fibre, to ensure enough strength in spite of slender structural elements and increased loadings. The aileron drive bellcranks were entirely concealed within the wings, with a mere 30mm of usable height at the trailing edge.
The LS7 prototype flew for the first time in the Autumn of 1987, and serial production started in 1988. Winglets were introduced in 1991, yielding the LS7-WL. Many earlier LS7s were converted to this standard. Production ended in 1993 with only 164 aircraft having been built.
Maximum speed: 270 km/h (170 mph) Maximum glide ratio: ca. 43 Rate of sink: 0.63 m/s (124 ft/min)