Registration: N8041D
Manufacturer: Glasflügel
Country of Orgin: Germany
Glide Ratio: 38:1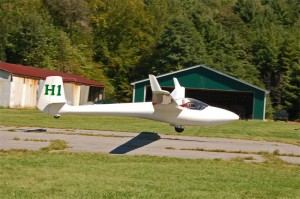 The H-201 Standard Libelle was a follow-on Standard Class sailplane to the successful H-301 Libelle Open Class glider. It was similar to the H-301, with modifications to meet the Standard Class requirements. The prototype made its first flight in October 1967, with a total of 601 being built. The type soon made its mark in contest flying; one flown by Per-Axel Persson of Sweden, winner of the 1948 World Championships, came second in the Standard Class at the 1968 World Championships at Leszno in Poland. The Libelle and Standard Libelle were very popular and influential designs. Their very light wings and extremely easy rigging set a new benchmark. Their handling is generally easy except that they are quite sensitive to sideslipping and have relatively ineffective air brakes that make short landings tricky for inexperienced pilots.
Maximum speed: 250 km/h (160 mph) Maximum glide ratio: ca. 38 Rate of sink: 0.57 m/s (112 ft/min)