Registration: N122Z
Manufacturer: Glasflügel
Country of Orgin: Germany
Glide Ratio: 35:1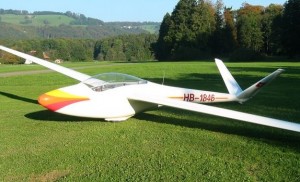 The H-101 differs from the Libelle in having a V-tail, showing its ancestry to the V-tailed Hütter H-30 GFK.[1] Four flush-fitting air brakes were fitted to the trailing edges of the wings, replacing the more conventionally-sited air brakes of the Standard Libelle. The Salto's air brakes are hinged at their mid-points so that half the surface projects above the wing and half below. The Salto prototype first flew on 6 March 1970, and 67 had been delivered by early 1977, when production at Start + Flug GmbH Saulgau ceased. Five more Saltos were built from 1993 to 1996 by the German company "LTB Frank & Waldenberger", bringing total output of Salto gliders to 72.
Maximum speed: 250 km/h (155 mph) Maximum glide ratio: 35 Rate of sink: 0.6 m/s (120 ft/min)