Registration: N87BD
Manufacturer: Schempp-Hirth
Country of Orgin: Germany
Glide Ratio: 42.5:1
Year Built: 1985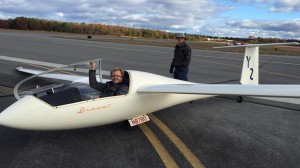 The Schempp-Hirth Discus is a Standard Class glider designed by Schempp-Hirth. It was produced in Germany between 1984 and 1995 but has continued in production in the Czech Republic. It replaced the Standard Cirrus. It was designed by Klaus Holighaus.
Maximum speed: 250 km/h (155 mph) Maximum glide ratio: 42.5 Rate of sink: 0.59 m/s (116 ft/min)